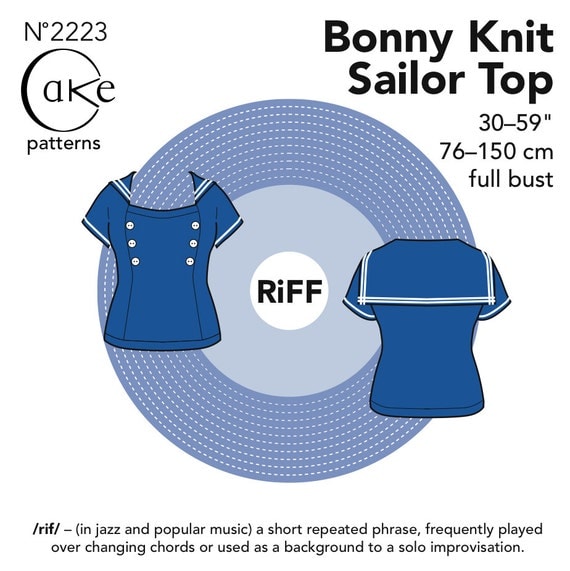 I recently made Cake Patterns # 2223, the Bonny Knit Sailor Top.
While I think the sailor-y version of this is cute, I'd rarely wear it outside of swing dancing, and we don't dance that much these days. It includes very brief instructions for making it without the collar.
Fabric:
I used a 7 oz teal rayon jersey. The fabric is not ideal here. It shows every lump and bump. If I wear a camisole under it, it is wearable. There's still a bit of unpleasantness over my stomach, but I think if I resume pilates/yoga I can probably get my stomach toned back up enough that that won't be an issue anymore. I've been slacking on the exercise. (And actually, it's not nearly as bad in the photos as it seems to me in real life.)
What I'm figuring out on knit weights:
(Table adapted and improved from a post here.)

| Weight | Oz | Notes |
| --- | --- | --- |
| tissue weight | 3 oz | Fluttery and very translucent; layers must be doubled, at least in the front, for t-shirts |
| lightweight | 5 - 7 oz | Nice drape but will show indentations made by undergarments. Could be an issue with rayon knits only at 7 oz? |
| midweight | 9 oz | Firmer drape that skims more nicely over the body |
| heavier | 10 oz | Thicker, not at all drapey. See my Renfrew attempt. |
Pattern:
Figuring out how to take these has been a pain. Any
place I've got a mirror has terrible lighting.
The pattern itself is quite neat. It's the first Cake pattern I've made. You customize the pattern based on your measurements (literally drawing some of the lines on, based on printed guides), and the result is a top that fits my figure pretty darn well. While I'm pretty short, I'm not exactly petite. My legs are short, my waist is long, but I have a high bust and/or am just petite from bust to shoulder. The result is that I think I need to do a petite adjustment so the sleeves sit in the right place.
I also had to re-cut the central panel as the neckline was way too low. Like not appropriate to leave the house in low. If I do a petite adjustment on future versions, that may solve this issue, but I'm going to have to do some testing as I go to make sure. When I re-cut the center panel, I added about two inches. Also, since the first version, with the top piece interfaced per the instructions, resulted in a neckline that wasn't just low, but also seriously gapey, I re-cut that piece too, doubling the height, folding it over, and stretching it taut as I sewed. Still not perfect, but better.
Because this pattern is a "riff," and the instructions are pretty brief (especially for the not sailor version), I'm not really clear if I did the neckline binding correctly or not. It seems like it might be best to do the binding, and then attach the center panel (i.e., in the reverse of how the instructions have it).
Part of the reason I was drawn to this pattern was the princess seeming. I have a rtw top that has very cute (similar) lines, and looks amazing on. In a less clingy fabric, I still think this has similar potential. (I'm also considering
this book
to learn the rub-off technique to duplicate it a little more exactly. I have terrible spatial reasoning skills, so while this would probably be quite simple for some sewists, I need more hand-holding.)
Oh, and I got a serger! This was the first thing I sewed using it. I've used one before (my mom has one), but I never quite felt I could justify the expense. So far I like it. Learning to thread the lower looper was a major pain, but I think now that I've got it I should be fine.