So, 2014 has been off to a slow start sewing wise. I made the husband another pair of pants. I've done quite a bit of knitting. I made a Tonic Tee, and a skirt. That covers January through April!
Tonic Tee
The Tonic Tee is a really nice pattern - I know this may mark me as crazy, but I like it better than the Renfrew. With a bit of a FBA, it fit me great right out of the gate. Except I should have added some length. While I am often considered "petite," what height I do have is in my waist. I took out about 3/4 of an inch between bust and shoulder, as I'm short through there, but did add a bit of length back in the process of the FBA. I could use another inch, maybe two to get this to a length that is really best for me.
More Tonic Tees are in my future.
Oh, and this pattern goes together really fast.
This puppy doesn't get a lot of wear, however, because it stinks - literally. I didn't notice it in the fabric shop, but there is a pretty horrible chemical smell to this fabric. When I've worn it people assure me, when asked, that they can't smell it, but I can. I think it is something to do with a specific black dye, but don't quote me on that. I have a pair of rtw black pants that have the same smell, only worse. So bad that they made other items in the wash their first time through also smell. So bad that I washed them in vinegar, and then baking soda, and then again, and then left them in the garage to air for a month before wearing them. And I can still smell them. Since this project, I've started sniffing at any black fabric or clothing I'm considering, right there in the store. People in stores may think I'm nuts. (While the scent in the pants in question is stronger than this shirt, since they're farther from my nose they are somewhat less offensive to wear.)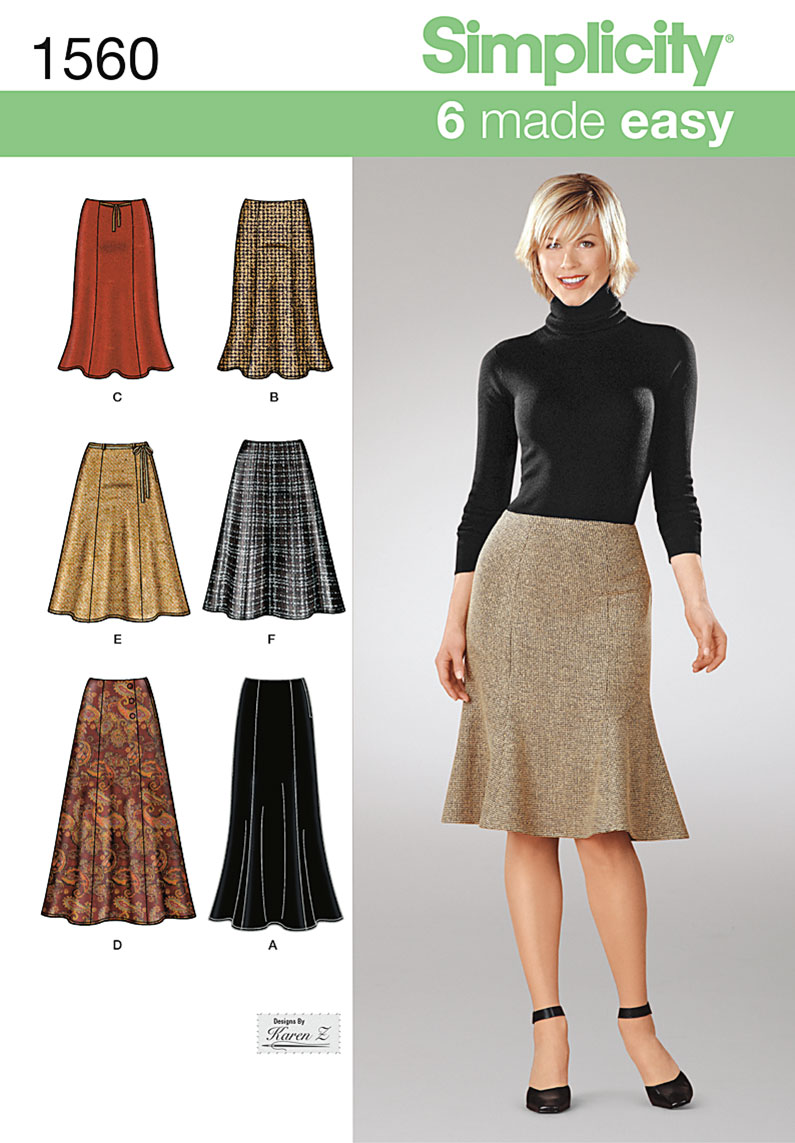 The skirt is Simplicity 1560, view b. This pattern is a recent release, although it was out previously, around 2001 or thereabouts. I loved it then, and I love it now. The view I usually make is a gored skirt with a lovely swish in the right fabric. I found this beautiful wool on a cold day in January, and this seemed the perfect option. While it is a cute skirt that I'll wear plenty when we return to winter, this wool really is too heavy for this design. It would have been better for the a line version.
(Speaking of which, does anyone find the images on pattern envelopes misleading with regard to fabric suggestions? I mean, here we get a photo of view b, in what looks like a wool. A pair of pants I'm working on has a photo of the pants in what looks like wool, when that's definitely not one of the suggested fabrics.)
I fully lined this is Bemberg rayon, hemming the rayon to the wool. Probably should have let the lining hang free, as it does affect the hang of the skirt a bit. And I should have made the waist facing out of something other than wool, as that is a smidge itchy.
Even fully lined, this was a quick and easy sew. In a shocking variation from my normal trend, I didn't bother to muslin this at all. I chose my size based on the finished garment measurements, and just forged ahead. (I didn't even trace the pattern!) And it fits great, but I think there's less to be worried about fit-wise in a skirt. I did have to chop a couple inches off the bottom to hem it to an appropriate length. When I make it again (and I will), I should probably find a lengthen/shorten line further up to remove the excess length.
Previously, I made it a couple times in stretch cotton sateen. That was better, but it would really sing in something lighter still. Swing dancers, if you're looking for a great trumpet skirt pattern, this is it! It has just the right amount of swish when swiveling, yet doesn't fly up in the course of spinning.
I started knitting right at the end of December, and I love it! It seems much easier than sewing to do in small bits and pieces, which may be why I feel like I've gotten more done there than sewing. So far, I've knitted two scarves, a cowl, a pair of hand warmers, a pair of socks, and a sweater. I've just started the Georgina Cardigan.
If you're interested, you can see my projects on Ravelry.