I'm preparing for a trip to Paris. It will be early enough in the spring that the weather will be a bit of a crap-shoot. It could be 60 and sunny, or 30 and a snowy, drizzly mess. I always get a little frazzled about packing for trips, but I've been trying to funnel that into careful planning. Part of that stems from a trip to England when I was in 5th grade, in April of that year. My dad told me I only needed a light jacket, and, like an idiot, I believed him. One of the big things I remember about that trip is freezing my butt off. I am determined to prevent a repeat of that experience.
So, to that end, I've been doing a bunch of planning. I bought a new light-weight down coat that should be relatively warm, but also easy to pack in a bag if it gets too warm for it. I've also thought about bringing along an additional coat or jacket (a nice wool one? too bulky? a nice wind-breaker that's a light jacket? I haven't tried it but it seems it would look odd over the other coat. Should I make a coat? I've thought about the Lady Grey, but I don't honestly think I'd get it done in time.) I've started a big wool cowl. I've hardly worked on it but am about half done anyway.
I had hoped to be farther along on this project by now, but had some sewing to do for the DH.
I'm also knitting a grey cabled wool & alpaca cardigan -- of my knitting, this is the key thing I
want
need to get done for the trip. It will be a nice piece that should go with everything else I plan to take, and it'll be nice and warm (DK weight). The back seemed like it took forever, but the fronts are going faster (hooray for cabling without a cable needle!).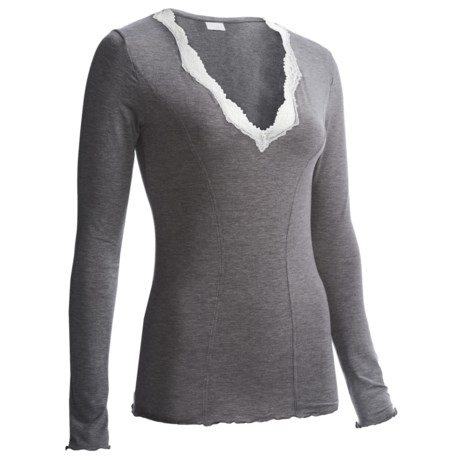 I had been eying some merino knit fabrics for some additional layering pieces (camisoles and long sleeved tees), but gosh that stuff is expensive in the US. And apparently getting some via ebay from New Zealand would take too long. I have some Uniqlo Heattech tops I'll be using as layers, but another (merino!) layer sounded like a good idea. So I compromised and bought some
ColdGear fabric
and we'll see what comes of that. It should at least arrive quickly. (Priority Mail from Colorado for the win!)
This top is way beyond my budget, but I really like the idea of doing some necklines in stretch lace instead of a regular band. Still thinking on this.
I'm going to make a pair of flannel-lined trousers, possibly Thurlows, although I will need to work out some fitting/sizing issues first. I'm not sure if I'm actually going to line them, or if I'm just going to underline them. Either way = warm pants.
And then I'd like to make some tops. I've kicked around a number of ideas, including a Bronte Top, a Comino Cap top (still tweaking some fitting issues there, but there is so much potential!), Jalie 2794, etc.
I will be going swing dancing at least once, so I also will be bring some shoes for dancing (possibly wedges, unless I get a new pair of boaters sueded before then), and something I like wearing dancing. I've thought about taking my sailor pants -- they could double as regular attire, with the added benefit that they're wool and thus pretty warm.
I have a couple of pairs of wool socks, but need to buy some more. While I've now knitted 1 2/3 pairs of socks, I'm not totally enamored with sock knitting. I don't see that it adds much value over just regular wool socks, and the cost is almost the same. Need to buy more soon.
And before I could start all of this I needed to finish a pair of pants for the husband (need to take the waistband off, take them in, then redo the waistband), sew another pair for him, finish one shirt, and sew another shirt. And I needed to acquire buttons for both shirts. I swear buttons are the bane of my existence. I never seem to have the required number in the right size or color. And despite my failure to post finished projects to the blog, I have sewn things in the past few months. Things I've loved, including the Iconic Patterns Wiggle Skirt.
And this plan happens to coincide nicely with the PatternReview Travel Wardrobe Contest. Can I get enough done? Can we pretend I didn't totally waste the afternoon I had off today cooking (delicious, wonderful soup, but still)?