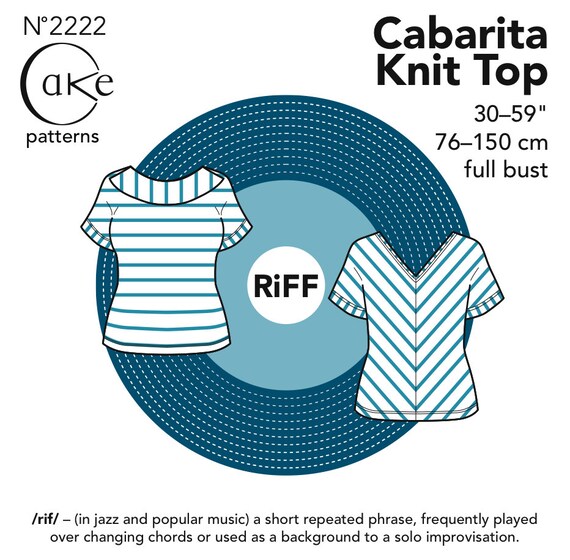 I really do like the sizing for Cake Patterns. Here's a first stab at the
Cabarita top.
Since I'm almost always wearing a sweater, going to the trouble to do chevrons on the back of the shirt just doesn't make sense. You'd never see them. So I dispensed with the collar, and planned for the chevrons in the front. I've never sewn anything that really required matching the fabric up carefully, so that was a first. I did a pretty good job of matching the three different stripes up in cutting, but some of them got off by a little bit when it came to sewing it up (stretch fabric being stretchy and all).
Note that on my dressform it looks better, since my dressform doesn't have the high bust/short upper torso issue.
I used steam a seam to help with the bottom hem (and stitched with a twin needle). It looks okay, but it feels super crunchy, and killed the stretch. Since I cut the top without much
lite.
Which is apparently what I should have gotten. Or fusible thread.
negative ease that's okay too, but it doesn't feel good. And thus I learned that there's also steam a seam
I also should have done a high bust/short upper torso adjustment of some sort, and, looking at the pictures of the back, maybe a sway back adjustment? It never occurred to me that that was a problem I have, but maybe so.
I cut the band for the neckline so the stripes go across it (perpendicular to the stripes of the chevron), and I'm not a huge fan of that. I think I would have liked it better if I'd cut a stripe so it would be one solid color.
Also, what's up with the sleeves? I by no means have tiny arms, but the sleeves are either too wide, or not floofy enough.
(Fabric for this is a 7oz cotton jersey from Girl Charlee. Too thin, but not by much.)
And it's really too short. Not terribly so, but I could have used some more length in the front especially (I did not do a FBA, but maybe I should have gone down a size, done a FBA, and made it a bit longer). (It's not crooked in the I cut like it appars here. That's just some quirk of how I am standing.) I cut the 35, at the 24" length, and chose the cutting lines not based on my measurements, but based on some of my favorite rtw knit tops. In lighter weight knits, I've found negative ease to be a bad thing, and I found that my my favorite shirts had the following measurements (1/2 of the front)
| | |
| --- | --- |
| At waist | At hip |
| 8.5 | 9.5 |
| 7.5 | 8.5 |
| 8 | 10 |
So, I wound up putting the waist at about 32.5, and the hip at 37. This is not just no negative ease, but some positive ease through the waist, and a tiny but of negative ease in the hip.